David Mansfield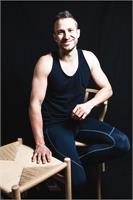 David qualified as a yoga instructor at Samadhi Bliss Yoga in Newtown, Sydney.
His honest and heartfelt classes help guide his students into finding a balance between the physical, spiritual and mental aspects of yoga and life. He encourages his students to use yoga as a vehicle to reduce stress, tension, and increase happiness and personal awareness. David's enthusiasm for Yoga is supported by the desire to help others develop a more meaningful practice.
David Mansfield instructs the following:
Hatha, meaning the balance between the sun and the moon, is a free flowing and physically challenging style of yoga. This is the perfect for those who are looking for an activity in which they can completely channel their energy. Students are encouraged to breath through the ever changing poses and can expect to feel revitalised at the end of the class.
This is a mixed level class and teachers will offer different options for those of different experience levels. Some experience is required.