Gabriel Stinga Rihani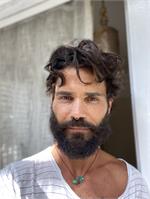 Gabriel Stinga Rihani began practicing yoga in its various forms in 2003 and in 2008 he began a dedicated Ashtanga Yoga practice. He has a background in Buddhist meditation that together with Ashtanga yoga, forms part of his sadhana.
Since his first trip to India in 2007, Gabriel has spent a large portion of time in India learning directly from his teachers. Five years ago Gabriel began studying under the guidance of Sharath Jois at KPJAYI in Mysore and after four extended study trips he has been authorised to teach the traditional method. Gabriel also spent extended periods of study over several years learning from certified teachers Rolf Naujokat and Louise Ellis.
Teaching Ashtanga Yoga has previously taken Gabriel to Sweden, Portugal, Spain, France and Germany. He is now teaching the Mysore program at Yoga Village together with his wife Nadia. He is also teaching several led Ashtanga classes on a weekly basis.
Gabriel Stinga Rihani instructs the following:
A beautiful fluid practice, Slow Flow incorporates Hatha Poses and and flows gently between poses. This class is less vigorous practice that Ashtanga and Hatha Vinyasa and is appropriate for all levels.

Expect this class to incorporate a mixture of Yoga Asana (poses), Pranayama (breathing exercises) and Meditation.

Suitable for all levels and for pregnant ladies




Hatha, meaning the balance between the sun and the moon, is a free flowing and physically challenging style of yoga. This is the perfect for those who are looking for an activity in which they can completely channel their energy. Students are encouraged to breath through the ever changing poses and can expect to feel revitalised at the end of the class.
This is a mixed level class and teachers will offer different options for those of different experience levels. Some experience is required.