Dafna Kronental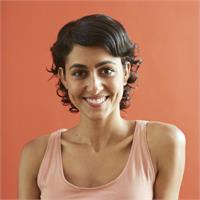 Dafna's background in dance and performance initially led to her interest in pilates and yoga. Her resonance with the yogic teachings and regular meditation practice saw her undertake training in India as a yoga teacher in the traditional Sivananda Hatha style. Dafna is deeply passionate about mind, body and spirit practices aimed at facilitating mental, physical and spiritual well-being. Her classes are focused on building strength and flexibility, developing awareness of breath and encouraging deep relaxation as a means of relieving day-to-day stresses and replenishing vital energy.
She is grateful for the opportunity to share the gifts of Sivananda yoga with others and inspired by the prospect of offering a gentle practice that cultivates deep healing and self transformation.
Dafna Kronental instructs the following:
Anyone can do Restorative Yoga, it is the perfect balance to a dynamic practice or a great way to ease yourself into yoga if you are a beginner. Restorative Yoga is wonderful for overcoming stressed, lathery or sickness and can be helpful in recovering from physical injuries. Restorative Yoga works by relaxing the body and mind with gentle movement (vinyasa), restorative poses to stretch deeply into those hard to reach places (Yin), breathing techniques (pranayama) and deep relaxation (yoga nidra).




Based on a classical form of yoga from the Sivananda Tradition, this class follows a traditional Hatha Yoga approach that covers breathing exercises (pranayama), sun salutations (surya namaskar), postures (asanas) and deep relaxation (savasana).