Asha Daniels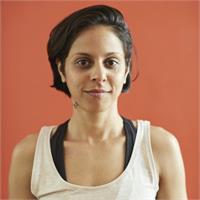 Trained in India under Master Teachers from the Bihar School of Yoga, Asha is a qualified ERYT 500 Hatha Yoga Instructor and has conducted classes and training workshops in India for 4 years before moving to Sydney in September 2014.

While in India Asha gained a strong foundation in Hatha Yoga as her primary practice and then moved to Ashtanga which gradually and steadily started to play a bigger role as her primary practice. She now currently follows and practices the Ashtanga method and loves the affects it plays on her teaching style and personal journey.
Asha Daniels instructs the following:
Hatha, meaning the balance between the sun and the moon, is a free flowing and physically challenging style of yoga. This is the perfect for those who are looking for an activity in which they can completely channel their energy. Students are encouraged to breath through the ever changing poses and can expect to feel revitalised at the end of the class.
This is a mixed level class and teachers will offer different options for those of different experience levels. Some experience is required.




A beautiful fluid practice, Slow Flow incorporates Hatha Poses and and flows gently between poses. This class is less vigorous practice that Ashtanga and Hatha Vinyasa and is appropriate for all levels.

Expect this class to incorporate a mixture of Yoga Asana (poses), Pranayama (breathing exercises) and Meditation.

Suitable for all levels and for pregnant ladies




Our Foundations classes are for students who are fairly new to Yoga or who wish to focus on the basic foundations of their yoga practice. These classes will bring you back to the basics, teaching the fundamentals of basic poses and transitions that you will find in the general Hatha classes.

Running much like a course, these classes run on a 5 week rotation after which students will be properly prepared to attend general classes. Students can join at any time, and so long as you attend for 5 weeks all the material will be covered.

It is recommended students initially attend 2-3 times per week to gain all the benefits and growth that this practice can offer.