Dafna Kronental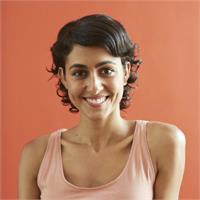 Dafna's background in dance and performance initially led to her interest in pilates and yoga 12 years ago. Her resonance with the yogic teachings and regular meditation practice saw her undertake training in India as a yoga teacher in the traditional Sivananda Hatha style. She has since completed her 50hr Yin Teacher Training and worked at various studios and with different private clients and corporations around Sydney.
Also a Masters student of Psychotherapy, Dafna is passionate about deep mind and body practices that not only cultivate physical strength and flexibility, but facilitate mental and spiritual awareness and well-being.
Every student's experience is important to Dafna, so she is mindful of developing enduring relationships with her students; tailoring the practice to suit each individual 's needs with the aim of relieving day-to-day stresses and replenishing vital energy.
Dafna Kronental instructs the following:
Yin yoga is a more passive style of yoga that involves holding fewer postures for longer periods of time to generate deeper movement, targeting the deep connective tissue of the body and to open up in to the joints. Classes are challenging but accessible to all levels.




Anyone can do Restorative Yoga, it is the perfect balance to a dynamic practice or a great way to ease yourself into yoga if you are a beginner. Restorative Yoga is wonderful for overcoming stressed, lathery or sickness and can be helpful in recovering from physical injuries. Restorative Yoga works by relaxing the body and mind with gentle movement (vinyasa), restorative poses to stretch deeply into those hard to reach places (Yin), breathing techniques (pranayama) and deep relaxation (yoga nidra).




Hatha, meaning the balance between the sun and the moon, is a free flowing and physically challenging style of yoga. This is the perfect for those who are looking for an activity in which they can completely channel their energy. Students are encouraged to breath through the ever changing poses and can expect to feel revitalised at the end of the class.
This is a mixed level class and teachers will offer different options for those of different experience levels. Some experience is required.