Hannah Mckissock-Davis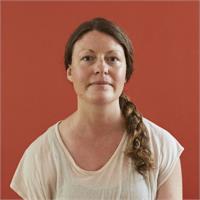 Twelve years ago Hannah stepped into her first yoga studio with no idea of what to expect. She wasn't flexible, athletic or spiritual, but soon discovered that the beauty of yoga is that it teaches you the discipline, inspiration and perspective to move beyond all of these supposed limitations.
Hannah's favorite part of being a yoga teacher is building a relationship with her students. Whether you are stepping onto the mat for the first time or a seasoned practitioner, Hannah believes the delight of being in a class is working with that shared energy and support.
For the past five years Hannah has devoted herself to two creative arenas, yoga and the arts. Currently dividing her time between yoga teaching and working at Sydney's state gallery presents her with opportunities for constant inspiration.
If you are looking to refine your alignment; build awareness of your body, breath and movement; and find space and laughter in your practice Hannah would love to meet you on the mat.
Hannah Mckissock-Davis instructs the following:
Hatha, meaning the balance between the sun and the moon, is a free flowing and physically challenging style of yoga. This is the perfect for those who are looking for an activity in which they can completely channel their energy. Students are encouraged to breath through the ever changing poses and can expect to feel revitalised at the end of the class.
This is a mixed level class and teachers will offer different options for those of different experience levels. Some experience is required.




Anyone can do Restorative Yoga, it is the perfect balance to a dynamic practice or a great way to ease yourself into yoga if you are a beginner. Restorative Yoga is wonderful for overcoming stressed, lathery or sickness and can be helpful in recovering from physical injuries. Restorative Yoga works by relaxing the body and mind with gentle movement (vinyasa), restorative poses to stretch deeply into those hard to reach places (Yin), breathing techniques (pranayama) and deep relaxation (yoga nidra).