Shivani Jevendren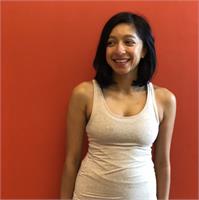 Her journey into yoga started at university when she stumbled across a yoga studio with no knowledge of what yoga was or what to expect. That first moment on the mat introduced her to a whole new world of movement and the beginning of the journey to explore and discover the layers of who we are. She studied with such renowned teachers as Sarah Powers and Tara Judelle, who have led her to a deeper understanding of yoga and aroused her curiousity to explore.
She currently teaches vinyasana yoga, hatha yoga and yin yoga in studios around Sydney. Her classes invite students to come home to themselves. Through enquiry, observation and feeling, students are encouraged to allow the movement to originate from inside and expand, moulding the poses to connect us to a sense of greater meaning in each moment. When not teaching or practicing she can be found in nature, hiking or trying to keep her plants alive.
Shivani Jevendren instructs the following:
Yin yoga is a more passive style of yoga that involves holding fewer postures for longer periods of time to generate deeper movement, targeting the deep connective tissue of the body and to open up in to the joints. Classes are challenging but accessible to all levels.




In ancient times, meditation was the goal and yoga postures were regarded as a means of enhancing the practitioner's mental and physical capacity to sit in meditation with little distraction. True to its authentic purpose and formula, this yoga class incorporates a 40min Restorative yoga sequence to calm, stabilise and facilitate the release of body and mind, followed by 20min of guided breath meditation to awaken deeper states of awareness and cultivate mental concentration. It is suitable for all levels and anyone interested in moving beyond yoga as purely a physical practice.