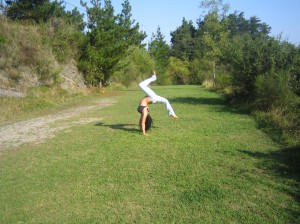 Thanks for yet another wonderful month at Darlinghurst's Yoga Village – can you believe that August marks 11 months since we opened our doors?!! Thinking back over the last year it is incredible how much I have learned from all of you. Running a business has really tested my inner yogi and has taught me a lot about patience, believing in yourself and the power of a daily yoga practice.
For some years now my daily practice has been a priority and a big part of my life. I am thankful that I created the routine of a daily practice before the taking on the pressures of opening Yoga Village because in so many ways it has been a saving grace. Whilst I always loved the practice (even though some days are better than others) since opening my own business it has helped me in so many other ways. I have learned that getting on the mat each day really does allow me to tune in to myself, my energy and gives me an opportunity to put things in to perspective in my personal and professional life. Like everyone, sometimes getting on to the mat can be a struggle, sometimes my mind starts telling me to sleep in or do something else, sometimes my practice only consists of 5 sun salutations and a long inversion but it is the practice of getting on the mat and prioritizing this time for myself daily that has allowed me to grow Yoga Village from a seed of an idea in to a beautiful, flourishing yoga school, all the while keeping myself in check!
Many of you say that you struggle committing to the practice so I wanted to share with you my top four tips for getting on the mat, regularly, even when times are tough.
1) Be Prepared


If you are practicing in the morning then pack your bag and get your yoga clothes ready the night before, so that all you need to do it get up, get changed and go. If you are practicing after work then bring your things with you. Tell your colleagues that you are leaving on time to go to yoga so they are prepared for it. Structure your day so that you don't end up with lots to do at 5pm, get through the big things first so you know that you won't be too swamped that you need to work late.
2) Make the time


Block the time out in your diary so that no one books meetings with you, don't make plans for brunch on Saturday morning unless they come after your practice. Allow yourself the time to do something for you and don't feel guilty about it.
3) Have a Fall Back Plan


Inevitably there will be a day where something will interrupt your practice time. You might be sick, stuck at work or didn't hear your alarm. Don't ride the day off! All you need is 10 minutes and a little bit of space. Do some rounds of sun salutes, a couple of standing poses that you know well, a seated forward bend and then lay on your back with your legs up the wall. You don't always need to do a full class, and a short home practice is always better than no practice at all.
4) Remember how good you feel when you finish your practice


One of the things that keeps me getting out of bed before the sun comes up is the knowledge that if I go to yoga I will feel better than if I don't go. If your mind starts creating excuses remember this 'I have often regretted not practising, but have never, ever regretting practicing.'
Commit to a 4 Week Transformation & Win A Free 3 Month Membership!
To help you commit to your practice we have created a 4 Week Yoga Transformation! You're invited to take part in the transformation which will run for 28 days (September 1st to September 28th 2012). Over the four weeks we encourage you to practice as much as you can and recommend 20 classes (5 per week). If you take part your name will be displayed on a chart in the studio and for each class you attend in September a stamp will appear next to your name. Every participant who has attended a minimum of 20 classes will go in the running to win a Free Three Month Membership to Yoga Village. The winners name will be drawn out of a hat at the celebration party on September 29 (this will be a celebration of the end of the Transformation and also our First Birthday Party!). The cost of the month is only $99 and if you already have a pass or membership then please email me as soon as you sign up and I am happy to put your membership on hold or add more time to your class pass so that it goes on hold for September.
For more details please feel free to
email me
. You can pre-purchase your pass
here.


In Love & light,
Nadia